He is Like a Tree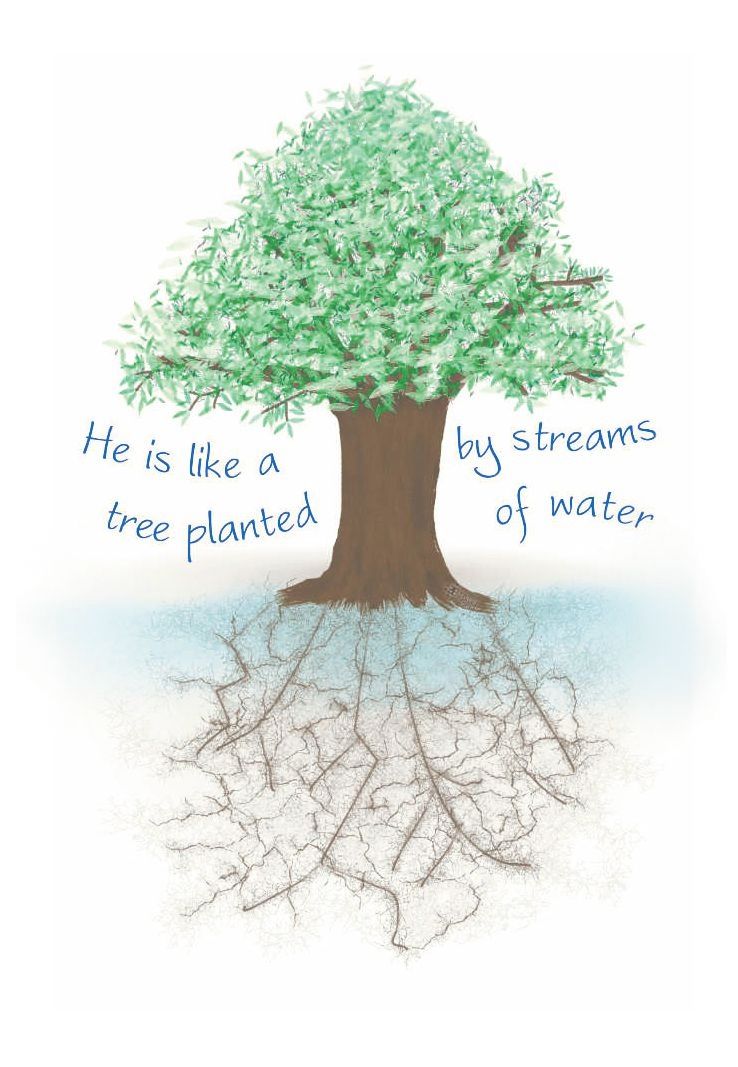 Blessed is the man who walks not in the counsel of the wicked, nor stands in the way of sinners, nor sits in the seat of scoffers; but his delight is in the law of the Lord, and on his law he meditates day and night. He is like a tree planted by streams of water that yields its fruit in its season, and its leaf does not wither. In all that he does, he prospers (Psalms 1:1-3 ESV)
A few years back, my family visited the Grand Canyon, and hiked down the popular Bright Angel trail. We started at some absurdly early hour, brushing our teeth in the pitch black bathroom of our rented motor home while dad drove to the trailhead, banging off each other, with toothpaste flying everywhere. Once out on the sandy trail, we watched an incredible desert sunrise, breathing in the cool October air as we began hiking into the canyon. We were in the desert, though, decreasing our elevation, and the sun was rising. Pretty soon, we were trudging along, in the sand, under a glaring midday sun. We had been up since 5:00 AM. We had been walking for miles. It was hot. There was no shade, and the only water was what we had carried in. Then we came to our half way point, Indian Gardens, like the realization of a mirage, with a number of immense trees, casting cool shade over a spring of water.
A tree, planted by rivers of water, is a place for weary travelers to quench their thirst. A place to be refreshed, strengthened, and receive hope for the rest of the journey.
The tree in Psalm 1 is often, correctly, interpreted as a picture of how the righteous man will be prosperous, and the passage does, in fact, say that he will be. I think there's something else, though, more profound than the blessings the righteous receive for their righteousness. The blessings they give to others.
He is like a tree, planted by streams of water.
Believers in Christ should be known as an oasis, where the weary travelers of the world can quench their thirst. The Hebrew word, translated as streams, refers to a channel of water used for irrigation, meaning that this stream of water is specifically designed to provide life-giving water.
Jesus said that, "Whoever believes in me, as the Scripture has said, 'Out of his heart will flow rivers of living water." (John 7:38 ESV). The language here seems to very closely mirror Psalm 1, speaking of streams of water, and the Greek word for rivers used here has a connotation of refreshment, suggesting a relationship between these two passages. Perhaps Psalm 1 was even the passage that Jesus had in mind when he said that. It is further suggested by the language that the stream of living water is not for the believer. After all, it is flowing out, away from him. Pouring out to quench the thirst of someone else.
Who? Anyone. Everyone, really. Strong Christians. Weak ones. Sinners. The man at the gas station. The woman at the store. The girl in the pew in front of you. The pastor. Your roommate. Your best friend. Everyone.
So how can we be like a tree? There are three instructions given in these two passages that answer this question, and they are all quite simple. John 7:38 says to believe in Jesus. Truly believe. Psalm 1 says to delight in the law of the Lord, that is, the Bible, and meditate on it day and night. That's all we have to do. Believe in Jesus, which should lead to delight in the scriptures and thoughtful reading of them, and you will be like a tree, planted by rivers of water. You will prosper in what you do, and be a source of refreshment to those around you.
That's all very well, you might say, but why should I be like a tree? The Westminster Shorter Catechism says, "Man's chief end is to glorify God," and we bring glory to him through our service to others, or, in other words, being like a tree. Furthermore, this lifestyle is of benefit to us as well, as we see in both Psalm 1 and Matthew 25. Psalm 1 states that whatever the righteous man does will prosper. Note that this prosperous life is a direct result of our delight in and meditation on God's word, the same thing that is said to make us like a tree, so that the one cannot be had without the other. Now, you might be concerned about the time and energy that will be required for this life of service as a tree, but the passage lays those fears to rest, saying that your leaf will not whither. God, who has supreme control of the universe, will honor our service, and see to it that we are not lacking in time or energy as a result of having expended it in his service. Matthew 25 takes a look at where these trees will be in the future, although this time they take the form of sheep being separated from goats. In this passage, Jesus speaks of his judgement of the world during his second coming, and makes the famous statement, "I say to you, as you did it to one of the least of these my brothers, you did it to me" (Matthew 25:40 ESV). Those who had provided food and drink for the hungry and thirsty, welcomed the stranger, clothed the naked, and visited the sick and imprisoned, were told, "Come, you who are blessed by my Father, inherit the kingdom prepared for you from the foundation of the world" (Matthew 25:34 ESV). In Psalm 1 terms, the righteous man, who was like a tree planted by rivers of water, will inherit the kingdom.
We should delight in the law of the Lord, meditating on it day and night, so that we will be someone that the weary and hurting people of the world will come to to be refreshed, and God can be glorified through us. God will ensure that we have the resources for this refreshment of others, and will reward us with a prosperous life on earth, and an inheritance in his coming kingdom.
He is like a tree, planted by streams of water.
Enjoying these posts? Subscribe for more